By Sandra Domingos
In my last backpacking trip to Brazil, before reaching the "Nordeste Brasileiro" (Norhteast), I stopped in Brasília where I met my old friend Andrea. After couple days me, my friend and her two little daughters got in the car for a road trip to visit the small town of Pirenópolis, distant 150km from Brasília (and 120km from Goiânia).
It is a historical and beautiful colonial city with exuberant waterfalls, rivers, mountains, and with churches that was built more than 300 years ago like the Church of Matriz and the Church of Bonfim. The small town with just over 20,000 habitants is located in the center of Brazil and in a region 800 meters above sea level. Every year for 250 years now, they celebrate the "Festa do Divino", which takes place 50 days after Good Friday (usually in May); and along with famous horseback riding, is considered one of the most important and largest folkloric attractions in South America.
The main industry here is tourism, cow farmers, extraction and manufacturing of lime stone, and different silver works by local artisans. The "Rua do Lazer" (lazer street) in downtown Pirenópolis is the best spot for the nightlife, where you can find great local stores and restaurants. The environment is simple, but very pleasant with special romanticism in the air as well a mystical wave around the all city.
For those who like cycling, horse riding back, hiking, fishing and radical sports like zip line and canopy walk, the region offers spectacular options. The region is known as the "waterfall paradise" as has over seventy waterfalls spread around the three sierras – Morro do Pedro, Morro dos Macacos and Serra dos Pirineus (check below important info about the Pirineus Sierra).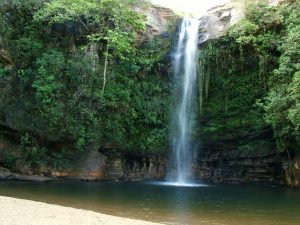 I recommend the Abade Waterfall, just 14km from the city, fall of 18 meters and beach, and good infra-structure with Mini-Mart; the Dragoes Waterfall located at Varzea do Lobo, 40km from the city on a private property with 7 waterfalls and natural pools; the waterfalls of the Vargem Grande Ecological Reserve, 11km from the city; the Araras Waterfall, with a big well and beach, 20km from the city; the Usina Velha Waterfalls that is an old power mill with many stones, shallow wells, and a few beaches, less than 3km. from downtown; the Waterfalls of Bonsucesso farm, a functional farm with an old house as the headquarters, corral and orchard, just 5 km from the city; and the Meia-Lua Waterfall in the region of Pedreiras, with riffles, many stones, deep weels, but no beach. This region in the heart and center of Brazil is definitely a must for those with an adventurous spirit and zen soul!
Parque Estadual Serra dos Pirineus
The State Park of Pirineus is located 18Km from downtown Pirinópolis. It has more than 2800ha of scenic beauty, over 1400 meters above sea level, with all kinds of vegetarian of savannas, geological formations, lookouts, and typical flora and fauna of the center of Brazil. The Park has many caves and harbors springs of the river Corumbá and river Das Almas. Here is the home for a famous Annual Religious Peregrination – the "Festa do Morro", that always happens on the week of full moon every month of July attracting thousand of people.
To read another article but with a focus on Pirinopolis cultural heritage for its architectural, urban, landscaping and historic significance go here.
*Sandra Domingos is a certified yoga teacher and personal life coach. She lived in the U.S for over 20 years and have visited more than 50 countries around the world. She lives now (2018) in Itararé, Bahia/Brazil.
*For airline tickets from the United States to Brazil or Latin America, custom travel packages, hotels and alternative stays, as well as cruises in the United States, contact our travel agent and tour organizer, Magali DaSilva. Telephone/WhatsApp 1(323)428-1963 — e-mail: magali_at_soulbrasil.com
Facebook Comments